X5 Vertical series air curtain
Pandawind air curtains Application: Glass doors, high-speed train stations, airports, hotels, restaurants, doors can't be wall installation
For 50 model: installation heights to 5m (environmental separation) and 4.5m (insect control)
For 60 model: installation heights to 6m (environmental separation) and 5.5m (insect control)
| | |
| --- | --- |
| Weight | 35-100 kg |
| Dimensions | 100-200 × 40.5 × 40.5 cm |
| Air Speed | 13m/s, 17m/s, 23m/s, 27m/s |
| Frequency | 50Hz, 60Hz |
| Voltages | 110V, 200V, 220V, 240V |
X5 Vertical series air curtain product video
see more details on the video
main points in this video
Check X5 series air curtains at different angles
X5 Vertical series air curtain data sheets
| Model | Vol/ (V) | Fre(Hz) | Motor input power (W) | Air Velocity (M/S) | Noise (dB) | Air Volume (M3/H) | N.W (KG) | G.W (KG) | Unit Size (MM) | Packing Size (MM) |
| --- | --- | --- | --- | --- | --- | --- | --- | --- | --- | --- |
| PW-5010L-X5 | 220-240 | 50/60 | 370/480 | 13.0/17.0 | 52/54 | 2800/3300 | 35 | 36.5 | 1000X355X345 | 1060X405X405 |
| PW-5015L-X5 | 220-240 | 50/60 | 580/800 | 13.0/17.0 | 52/54 | 4300/4900 | 54 | 56 | 1500X355X345 | 1560X405X405 |
| PW-5020L-X5 | 220-240 | 50/60 | 800/1100 | 13.0/17.0 | 54/56 | 5600/6600 | 65 | 68 | 2000X355X345 | 2060X405X405 |
| PW-6010L-X5 | 220-240 | 50/60 | 950/1200 | 23.0/27.0 | 68/72 | 4300/5100 | 50 | 55 | 1000X460X420 | 1075X530X510 |
| PW-6015L-X5 | 220-240 | 50/60 | 1500/1850 | 23.0/27.0 | 72/76 | 6400/7600 | 70 | 75 | 1500X460X420 | 1575X530X510 |
| PW-6020L-X5 | 220-240 | 50/60 | 2400/3000 | 23.0/27.0 | 76/80 | 8600/10200 | 100 | 109 | 2000X460X420 | 2075X530X510 |
why choose pandaWind X5 Vertical series air curtain
The Most Important Thing Is To Choose The Correct And Effective Air Curtains. Why?
According to the NSF & AMCA standard, air curtains for customer entry shall have a minimum 8 inches (200mm) air stream depth and an air velocity of at least 600fpm (3.05m/s). the measurement point shall be at a distance of 3 ft (0.9m) above the floor.
For our 60 series X5 series air curtains, the max air velocity can reach 27m/s, so, our air curtains can definitely meet NSF & AMCA standards!
centrifugal with super high speed and air volume
Remote control and door switch are optional
pure copper and two-speed motor
industry style design can suit the most vertical application
strong air flow & air speed
vertical installation
Invisible Door = Customers-friendly
Insect & Pests Stopper
Temperature Stability = Reduce Energy Loss
Cleanroom Protector = Protect Goods & Staffs
Compressor-Friendly
Perfect ROI
HVACR & Compressor-Friendly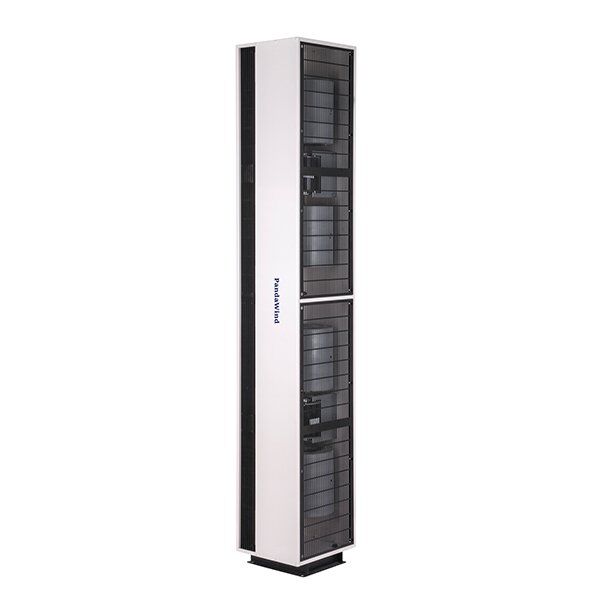 Share X5 Vertical series air curtain With Your Clients
still not find? research it!
The Pandawind professional Sales Team assist you 7×24 hours.